During the summer of 2014, Children's National Health System in DC invited me and my colleague Amanda Lange to tour their Sheikh Zayed Institute's Pain Medicine Care Complex. They have been making good use of Microsoft's Kinect sensor to aid in physical therapy for their young patients.
We were greeted by Chelsea Kling, a coordinator for Children's Miracle Network Hospitals. The lobby was inviting with high ceilings and kid-friendly balloons of various colors.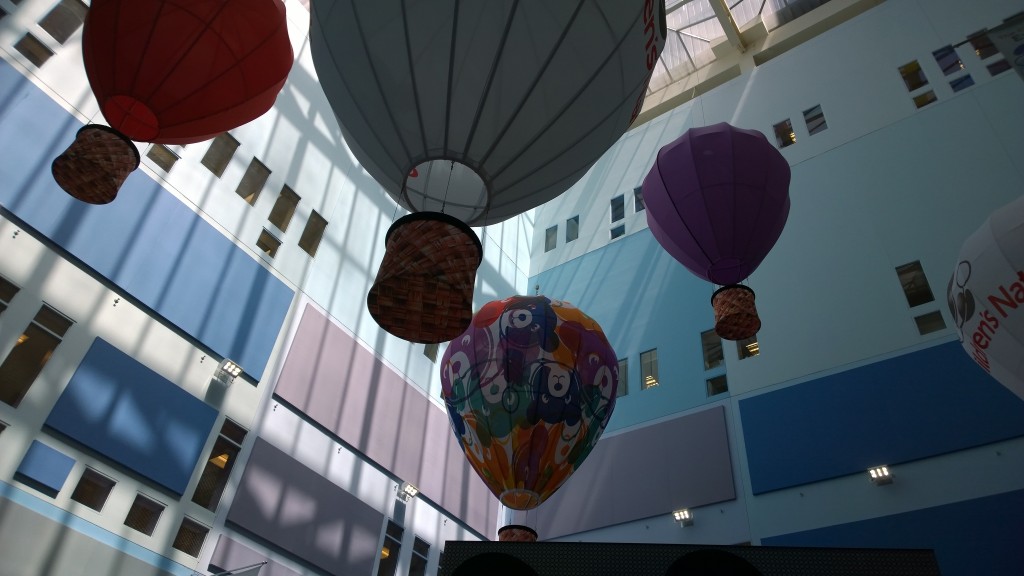 At the Sheikh Zayed Institute's Pain Medicine Care Complex, we were greeted by Christy Baxter (MSN, MHA, RN, CPN, BA) a Clinical Manager at the pain clinic. Christy gave us a quick overview of what they are currently doing at the clinic.
Video of Christy's intro: http://youtu.be/hUQWQVVffC4

Soon after, Dr. Julia Finkel (MD) joined us as we headed into the physical therapy area to witness their Kinect applications in play. Dr. Finkel is the Chief of the Division of Pain Medicine and a Professor of Anesthesiology and Pediatrics.
Once inside, Amanda and I got a chance to try out the Kinect ourselves. It gave us an opportunity to witness and experience how patients can have fun while getting treated at the hospital. This creates an environment that encourages young children to get the treatment they need without feeling intimidated by a hospital.
Video of Christy's intro to the Kinect system: http://youtu.be/mx9GKi2SvGU
Video of Amanda and me trying out the Kinect: http://youtu.be/I9cLGz4HK0g

The administrative UI for the Kinect application is installed on a Windows tablet, to allow an administrator to control the app wirelessly.
As the Sheikh Zayed Institute's Pain Medicine Care Comlex has continued their modern approach to physical therapy with motion-sensing technology, we've discussed the possibilities of what else they could do with the latest version of the Kinect sensor. The new Kinect v2 sensor has a 1080p camera, a microphone array, better precision for more joint support, and so much more.

 If you're interested in donations and contributions, please visit the following website:
We hope you enjoyed this virtual tour!
For more pictures, see the gallery below: