Ever since The Minority Report was released in 2002, gesture-based computer control has been compared to the NUI features shown in the movie. Sure, the Nintendo Wii came out in 2006 with built-in motion control, but it still required the user to hold a controller in their hand.
Fast-forward to 2010, the original Kinect was introduced as an Xbox 360 accessory. This brought gestures and voice control to a home console like never before. In 2012, Microsoft released Kinect for Windows, which allowed any hobbyist developer to build an app or game for Windows using a slightly-modified version of the Kinect.
With the release of the new Xbox One console, Microsoft made the controversial decision of shipping every Xbox One with a 2nd-generation Kinect. However, that also means that the Kinect v2 is now guaranteed to be in the box of every Xbox One that gets sold.
So, what's an indie game developer to do?
Right after the ID@Xbox program was announced, Microsoft also announced a separate program for Kinect v2 for Windows. This program (for a fee) includes 2 Kinect dev kits: a pre-release version in 2013 and a final version in 2014.
I applied for this program and was recently accepted into it. As a result, Microsoft sent me the pre-release Kinect just before Thanksgiving. I quickly hooked up everything, and got all the sample programs up and running.
The samples include:
Body Basics
Color Basics
Coordinate Mapping Basics
Depth Basics
Infrared Basics
What did I get for my money? I got the new Kinect v2, a power brick, a USB connector with adapter, access to the SDK and private forums. I expect to get continued support for ongoing development, and the final version of the device in 2014.
The samples are written for C# (with WPF) or C++ (with Direct2D). There are also precompiled binaries of all the samples so that you can see the end products with having to compile them yourself.
Here is my setup, connected to my Alienware gaming laptop, temporarily sitting in front of the couch.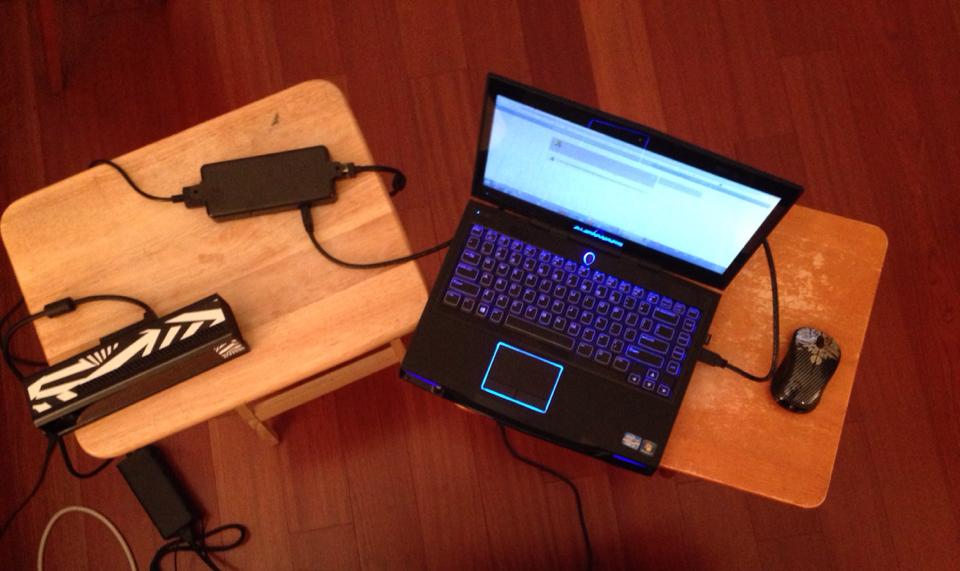 I'll be able to build a Weather Report app or a "Minority Report" -like game, using all the tools I have at my disposal. While I'm not ready to reveal my development plans just yet, I'll be blogging about my progress in the coming months. So, stay tuned!