It's been a while since I've published a developer Q&A, so I've decided to reach out to developers who are publishing their games on Microsoft platforms.
First up: we have Brent Fox of NinjaBee (a division of Wahoo Studios), developer of Nutjitsu, the second ID@Xbox game released on Xbox One.

1. How many people were on your team to make Nutjitsu?
The core team was made up of a programmer, designer and an artist. We also had a Project manager working on Nutjitsu (who was also working on other projects at the same time). We had a handful of other people help out when they had time. In the end a larger group all contributed.
2. Do you contract out any of the work to part-time or temp workers?
Other than music and SFX, we did all the work in-house with full time people.
3. How many games has NinjaBee published?
We've been around for a while. It depends on what you count. Under the NinjaBee name we've published over 10 games and it could be over 16 games if you count different platforms and versions.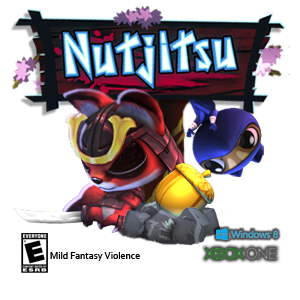 4. What other games have each of your team members worked on?
We have some veterans on the team so the list of games our team members have worked on, outside of NinjaBee, is large. Some of the notable games are:
Ryse
Disney Infinity
Starcraft: Brood War (Expansion)
Rampage (N64)
Tiger Woods Golf (N64)
Bio F.R.E.A.K.S. (N64)
James Bond 007: Nightfire (PC)
Xena: Warrior Prnicess: The Talisman of Fate (N64)
Sarges Heroes (Dreamcast)
ESPN MLS Game Night (PS1)
E.T.: Escape from Planet Earth (Game Boy color)
Legends Football '98 (PC)
5. What advice do you have for your other indie developers at ID@xbox?
Make games that have a way to attract players that haven't played your game yet.
6. Will you be bringing your products to Windows 8?
Both A World of Keflings and Nutjitsu are already on Windows 8.
Windows Store links below:
7. Any future projects you can discuss?
Our first priority is bringing Nutjitsu to other regions on the Xbox One. However, tackling the many ratings boards has proven to be super challenging and time consuming. We are also making great progress on our next game but we aren't ready for any announcements.

Disclaimer: The responses in this Q&A reflect the opinions and experiences of the independent developer being interviewed.