The highlight of opening day is usually the keynote. And the highlight of the TechEd keynote was the Aston Martin. From the snazzy video clip of the fast and furious sports car, to the stage entrance of Brad Anderson in said vehicle, the exotic did not disappoint.
But enough about cars. What are we here for, again? Oh yeah, Microsoft TechEd.
You can catch the stream online at:
http://channel9.msdn.com/Events/TechEd/NorthAmerica/2013/Key01
The morning topics included the usual suspects:
* Windows 8
* Windows Server
* Azure
* SQL Server
* Cloud
* Security & Authentication
* BYOD
* Active Directory
* Intune
* Combinations of all of the above
And printers. When Iain McDonald took the stage, he showed us a new future where he could touch his Windows device on his printer. However, the darned thing refused to print anything. He tried really hard to stare it down and talk it through the process, but the printing demo didn't work.
An interesting thing about authorizing your Windows device to the office network is "selective wipe". Basically, your IT department can easily remove just the work-related files instead of wiping the entire device, when you take the device permanently off their network.
When the world-famous Scott Guthrie took the stage, he spoke about Azure. He elaborated on the benefits, but most importantly, the new pricing structure. (See details on his blog) And last, but not least, he mentioned the Azure contest through which you can win an Aston Martin. (There it is again!)
Being a developer myself, I was interested in Brian Harry's Visual Studio presentation. Brian is a Technical Fellow at Microsoft, and he revealed a major update to the popular IDE: Visual Studio 2013!
Along with TFS 2013, there are a host of new Agile/Scrum features. There's even a nifty IDE feature that displays a mini-HUD in your code. If you're lookig at a method, for example, you can quickly see the method's references, passing/failing tests and changesets. We also saw a recently-acquired product called InRelease which allows you to use TFS to quickly deploy across multiple environments, e.g. QA, Staging and Production.
See more on Brian Harry's blog.
Up next was data, BI and analytics. From built-in Excel features to SQL Server 2014, you can make more sense of your data through more integrated features and tools in your favorite Microsot software.
Finally, it was off to the Microsoft Surface line!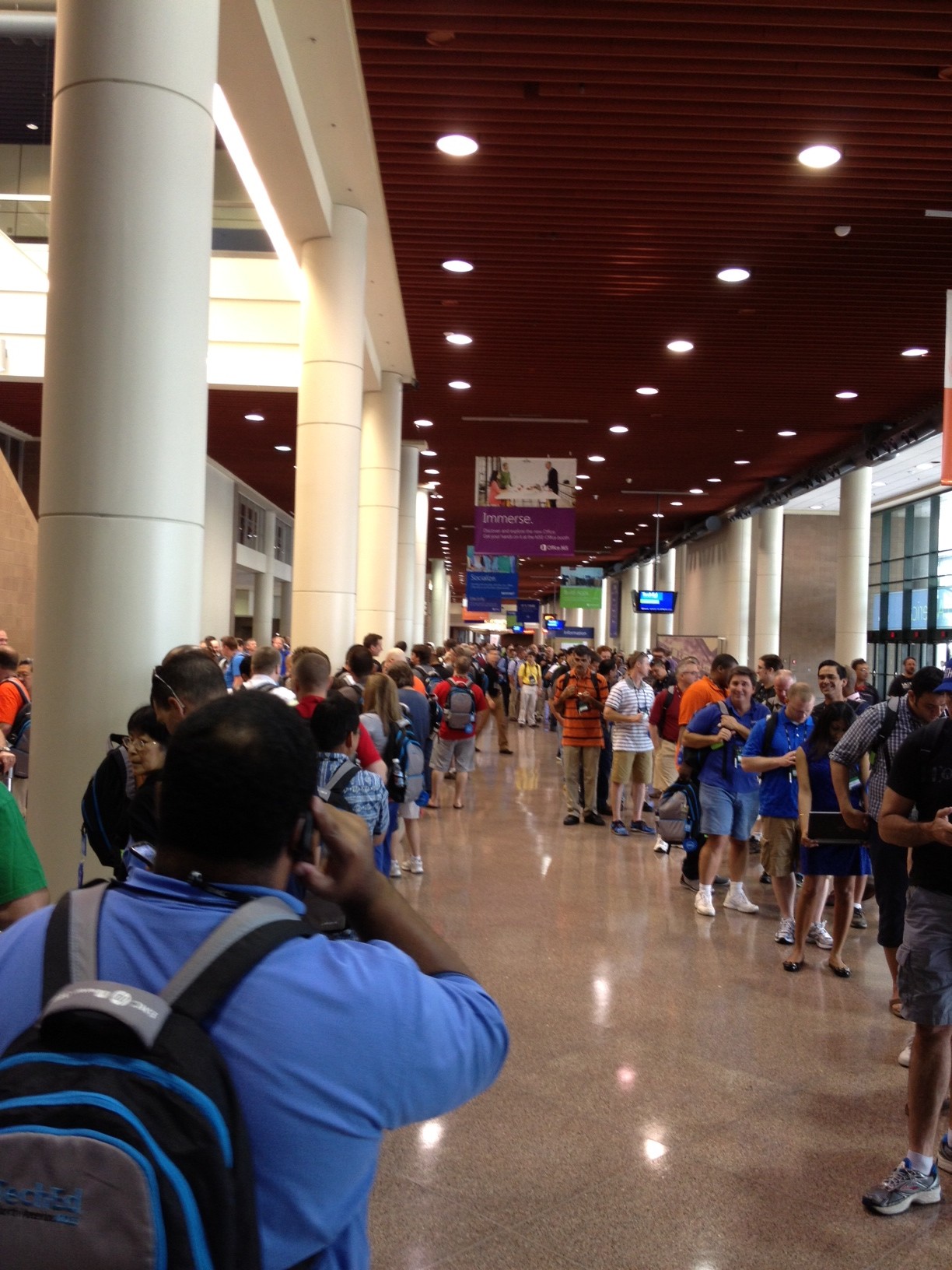 For up to 80% off, was it worth it standing in line for a few hours? You bet it was! (I'm typing this on my new Surface Pro right now.) I did miss lunch though, and I was progressively getting sicker with a sore throat and a cough. So, I did have to grab a late lunch and then take some rest to rejuvenate. I had planned on attending a couple of sessions on using Async in .NET and modernizing .NET applications.
After a quick call and a couple of emails for work, I was back at the conference center for the Welcome Reception. There was an abundance of food, and plenty of opportunities to network with others. I met up with .NET professionals from my area, and also picked up some freebies along the way.
I hope to attend more sessions throughout the week, so stay tuned!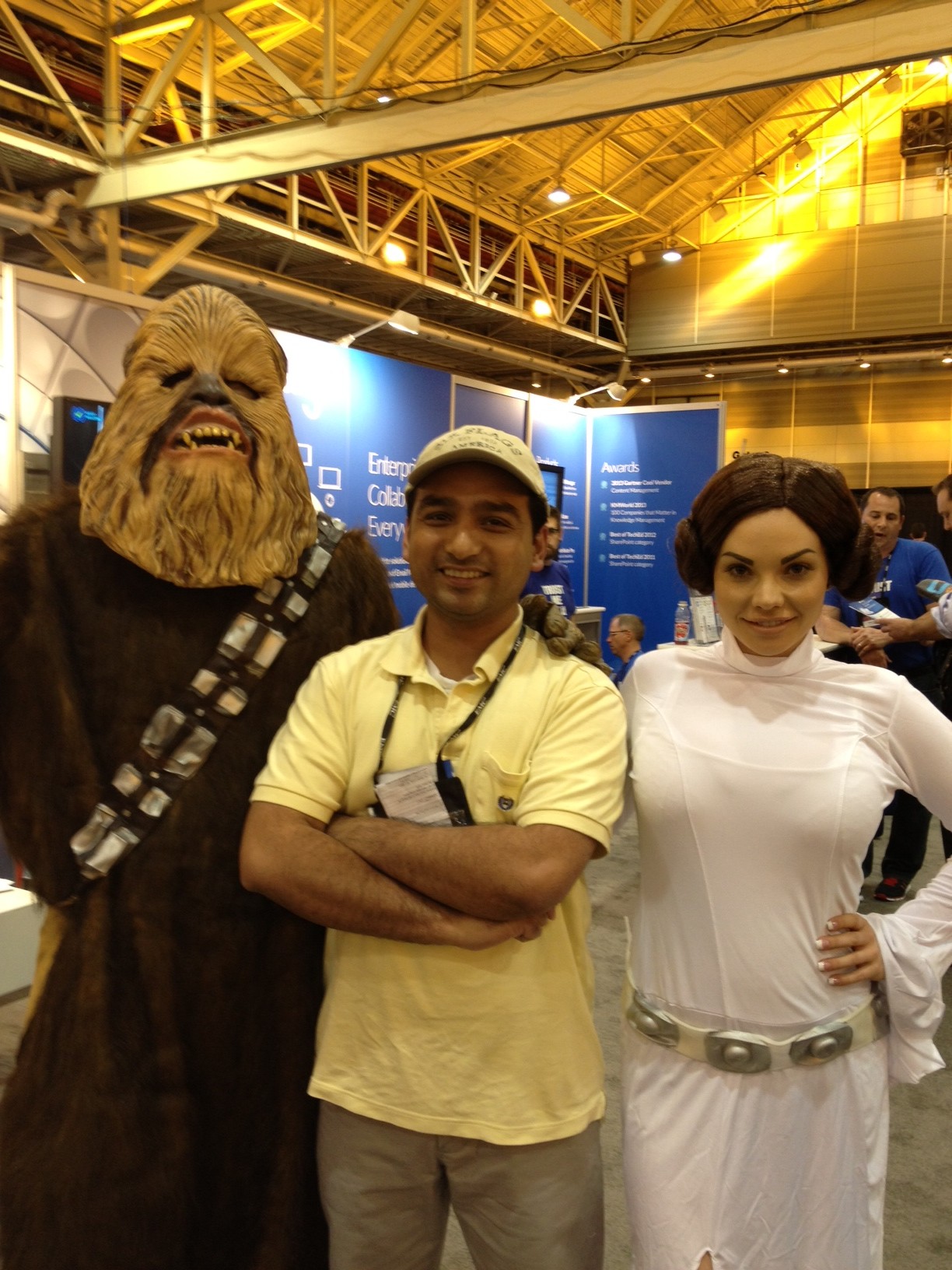 This is one of a series of posts about TechEd. You can see the index page at:
http://WakeupAndCode.com/teched-2013/