To celebrate Independence Day, we're talking to an Independent developer who's building an unofficial Facebook app for Windows 8/RT to counter Steve Ballmer's announcement of an official Facebook app. Let the downloads begin!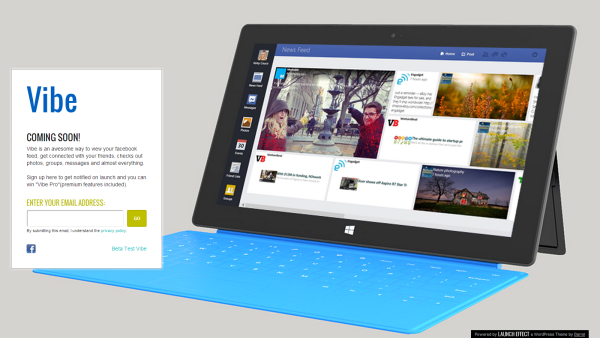 Q: Hi Ritesh, welcome to WakeUpAndCode.com! As I asked another developer in my first Q&A, do you wake up and code every morning?
A: I wish I could wake up before 10 AM. I am a night person. I like working at night until 2-3 AM. It has become a kind of habit for me to work until late night. Nighttime gives me more focus and no distractions.
Q: Tell us about your new Facebook app, Vibe.
A: Vibe( http://getvibe.co/ ) is an awesome way to view your Facebook news feed, get connected with your friends, check out photos, groups, messages and almost everything in Windows 8 – Modern UI style.
Q: What made you decide to develop it?
A: Three months ago, we started using Windows 8. We found out that there was no good Facebook app in the Windows Store. We missed using Facebook in Modern UI. So we decided to build it ourselves. As we were coming from an iOS background, it took us some time to learn our way around Windows 8 and XAML/C#. As we started developing, everything started falling in place and finally we are on verge of releasing a great product, which we believe everyone will love.
Q: When can we get our hands on this app?
A: Right now, we are gearing up for the beta release next week. And we are also looking for beta testers. Anyone interested can signup to be included in beta testing here- http://bit.ly/vibe-beta
Direct link: https://docs.google.com/forms/d/1uAQPk4b2BTnbAjnRUCcawcFh7fCGneBnDrk9l_ChSqw/viewform
We expect the final version to be released around mid-late July.
Q: On what platform(s) will Vibe be available?
A: Right now, Vibe will be available for Windows 8 & RT. As we progress, we will also consider other platforms.
Q: How big is your development team?
A: We are a two-member team working day and night to make Vibe a great Facebook experience.
I (Ritesh Ranjan) take the lead in business and design decisions of the project. Since we are a two-member team, I also code. My friend (Ajeet Kumar) takes care of all the development/technical decisions & their implementations.
Q: Have you developed any other apps in the past? Do you have any other apps planned for the future?
A: We have developed a few apps on the iOS platform. This is our first Windows app. Links to our previous apps are below.
http://callyapp.com/ & http://tapisfun.com/
Q: How do you plan to monetize the app? Premium version? Advertising? In-app purchases?
A: We will be using advertising as our primary mode of revenue.
Q: Microsoft just announced that Facebook will be releasing an official app for Windows 8. And Facebook already has popular apps on all other major mobile platforms. How will this affect your marketing strategy and available features?
A: Frankly speaking, we were a little disappointed by the announcement. But we are a committed and focused team. We will be investing more time on development & design efforts. And we will try to make an awesome product for everyone.
We think we can provide a great alternative to the Official Facebook app. And in some cases better experience then the Facebook app. It's a long journey ahead, and we will keep improving "Vibe" over time.
Q: Anything else you'd like to add?
A: Anyone can signup to be notified on launch here- http://getvibe.co/
We have a very user focused development environment, where we will be continuously taking a lot of feedbacks from our community/users. And based on their feedback, we will be improving and adding new features to Vibe.
We have many plans for Vibe, like adding chat, which we will be executing as we go along.
Best of luck to Ritesh and Ajeet!