I recently passed the Microsoft certification exam for 70-532: Developing Microsoft Azure Solutions. To celebrate this achievement, I would like to share some information that will help you prepare for the exam.
1. Read the Official Exam Prep book.
Exam Ref 70-532 Developing Microsoft Azure Solutions
by Zoiner Tejada, Michele Leroux Bustamante, Ike Ellis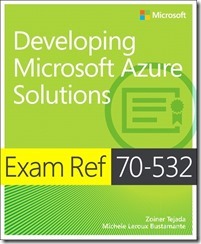 You can purchase the book on Amazon or Barnes & Noble.
2. Take notes while thoroughly reading the book.
Never underestimate the power of your own notes. By taking notes while reading the book, I was able to review the notes to remember key features just before I walked into the exam.
3. Watch the MVA course for 70-532 prep.
My colleague Bret Stateham and his co-host Sidney Andrews have a great video course on Microsoft Virtual Academy to give you a high-level overview of this exam's objectives.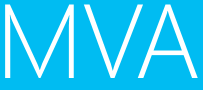 4. Watch the MVA course on Azure Fundamentals.
If you need a refresher on Azure Fundamentals, check out Bob Tabor's Azure Fundamentals video course on Microsoft Virtual Academy:
5. Watch the PowerShell video tutorial on Lynda.com.
If you're new to PowerShell, Lynda.com has a great video tutorial on PowerShell. If you don't have an account with them, you can start with a free trial.
6. Memorize the details of each pricing tier. 
There are tables of data in the official book and in Azure documentation about pricing tiers for virtual machines, websites, SQL Server databases, etc. I would highly recommend reading through these tables thoroughly so that you're prepared to answer questions where such knowledge is key.
7. Get some actual experience on Azure!
Nothing beats first-hand experience! Head on over to the Azure website today to start your free trial or activate your Azure account via BizSpark or MSDN, whichever option applies to you.

For more information on signing up with BizSpark, check out my BizSpark info page:
8. Download Visual Studio!
To get the development tools you need to work with the Azure SDK, download Visual Studio for free!
9. Now, get ready to schedule your exam!
Best of luck!