For today's Q&A, we have Sam Abbott of Compulsion Games, developer of Contrast, which was recently released on Xbox One.
1. How many people were on your team to make Contrast?
Contrast was contributed to by a number of people, but our core team in the studio was 8 people. We scaled up very slowly from 1 at the start of the project, by bringing on people who were as passionate about the project as we were.
2. Do you contract out any of the work to part-time or temp workers?
Yes, although not in those terms :). We didn't hire on part time employees or workers – we believe in only expanding the team with permanent employees (as opposed to bringing people on, and then making them redundant at the end of a project). However, naturally we need people to fill the occasional gap (eg, we might need another animator, but only for a month!) so we used short term external contractors from time to time.
We also partnered with two other small shops to create Contrast – WaveGeneration Audio (based in Montreal) created our soundscape, and PixelNauts (based in Ontario) created our 3D art. They were really great people to work with, so I highly recommend checking out their work!
3. Have many games has Compulsion Games published?
Contrast is our first game as a studio. Hopefully it won't be the last!

 Download: http://store.xbox.com/en-us/Xbox-One/Games/Contrast/aa3f50ae-5214-47cf-b179-e68b7b999b66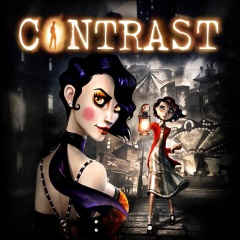 4. What other games have each of your team members worked on?
Our team has worked on a wide range of games – from big games like Darksiders to small games like Waking Mars.
5. What advice do you have for your other indie developers at ID@xbox?
I think the most important aspect is not to expect that everything will happen overnight. It'll take time to go through certification, so I'd get started on the process 3-4 months at least before your intended launch date. And make sure you get onto ratings early!
6. Will you be bringing your products to Windows 8?
Contrast is actually already out on Windows 8! (And Windows 7 and Vista, for those of you who have not yet taken the plunge.) It's available on Steam and through most other digital retailers.
7. Any future projects you can discuss?
Not right now! We're focusing on supporting the Xbox One version, to make sure that it's a great experience for everyone.
8. Anything else you'd like to add?
Yes! We're very proud of Contrast, and are very happy with the Xbox One version. If you're looking for something different on your Xbox One, this might be the game for you. Just don't expect a super hard platformer, because that's not what it is

Contrast Launch Trailer: http://youtu.be/PIIJtJeMu4Y 

Disclaimer: The responses in this Q&A reflect the opinions and experiences of the independent developer being interviewed.